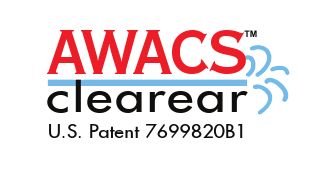 (((Home Ear Irrigation)))
Uses water from your bathroom sink or shower
Effectively flushes wax from ones ear
Developed by an Ear Doctor, AWACS™ is the result of his 40-year search for an easy and safe home remedy for ear wax build-up.
NOT FOR USE IF THERE IS A HOLE IN YOUR EARDRUM OR
IF YOU HAVE TUBES PLACED IN YOUR EARDRUMS
Affix the device AWACS™ to your bathroom faucet (or use the shower AWACS™ attached above your shower nozzle)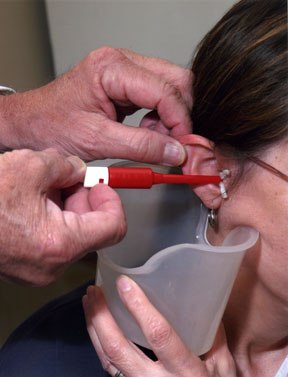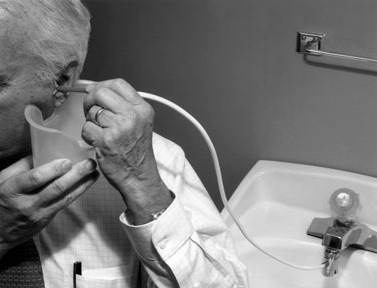 Directions:


1. Unscrew aerator from your faucet nozzle and screw on AWACS™ (or remove shower head and replace it after shower AWACS™ has been screwed on).

2. Adjust water temperature to body (tepid) temperature. (Hot or cold water in the ear will cause temporary dizziness)

3. Divert water through AWACS™ hose by turning lever on faucet attachment. Recheck Temperature.

4. Stop the flow and place patented AWACS™ probe to opening of ear canal.

5. The "C" shaped guard faces forward and prevents the probe from entering the ear canal.
Never place anything within the ear canal.

6. Flush the ear with water at a pressure which is comfortable.
This will be noisy but should cause no pain. If you have pain stop the process and see your ear doctor.

7. Tilt head to allow outflow into a basin or directly into sink. (For shower AWACS™ the water will simply be caught in the shower drain)

8. Flush continuing, until ear canal feels clear.
DO NOT USE IF YOU HAVE A HOLE IN YOUR EARDRUM OR TUBES IN YOUR EARDRUM

- If you're unsure about a possible hole in your eardrum, see an ear doctor before use.

- AWACS™ may be used when wax affects your hearing.

- AWACS™ is useful to avoid painful ear infections (swimmer's ear) which occurs when wax blocks the ear canal, partially, trapping water behind the wax.

- A few drops of rubbing alcohol in the ear canal will accelerate drying of canal after flushing. Do not use cotton applicators for drying.

See your ear doctor if your ear is still stopped up after using AWACS™. You could have a serious wax impaction requiring professional attention.
DO NOT USE IF YOU HAVE A HOLE IN YOUR EARDRUM OR TUBES IN YOUR EARDRUM

AWACSclearear U.S. Patent 7699820B1TM